Live Streaming
PUSHR CDN's live streaming platform provides a complete video solution, including stream ingestion, live transcoding, video optimisation and reliable delivery of your live content to a virtually unlimited amount of viewers via r-cdn.com - A software-defined CDN built on top of our standard network, optmised scpecifically for live video, IPTV and OTT delivery.
Adding a stream
Adding a stream to your CDN account takes just 60 seconds. A source URL is required for HLS, MPEG-TS and RTSP streams. A streaming target is provided for RTMP streams.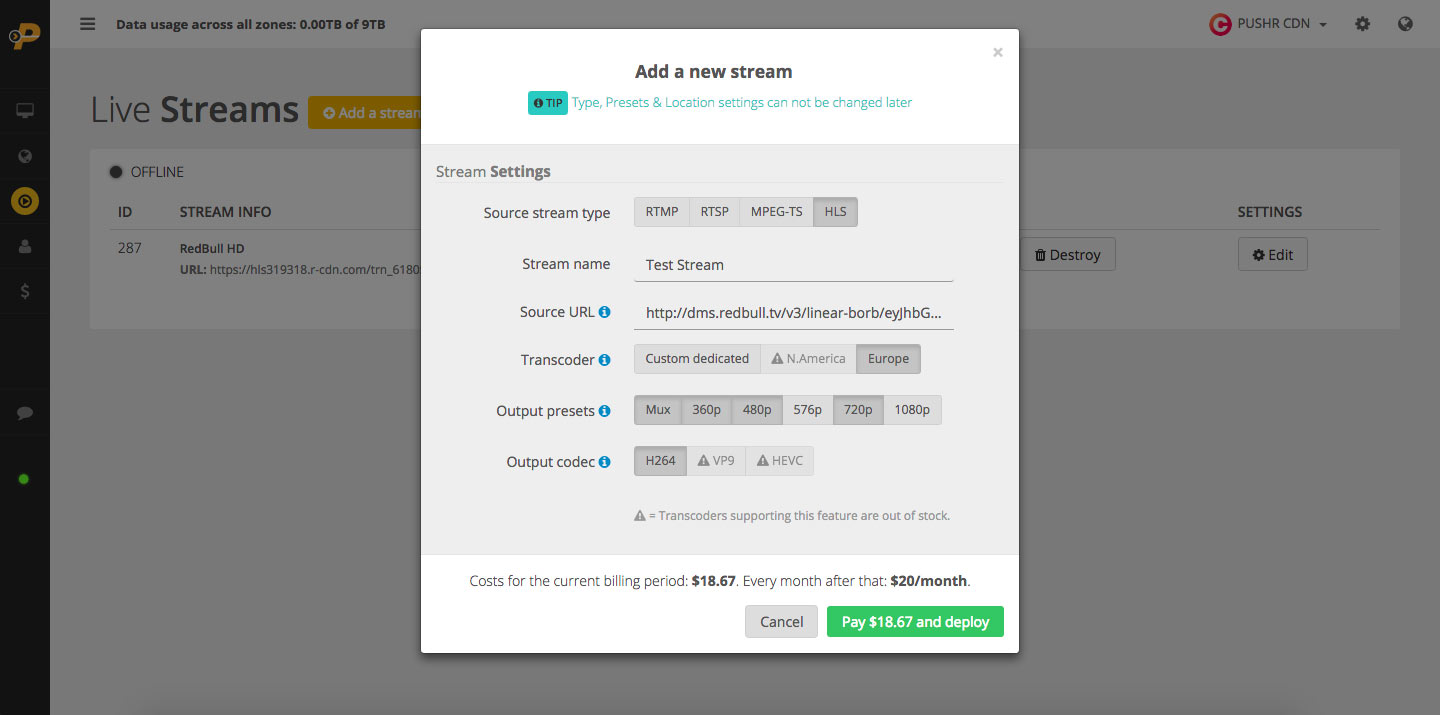 Stream type
Supported source stream types: RTMP MPEG-TS HLS RTSP
Once a stream is deployed, the stream type can not be edited.
Stream source
Your streaming source URL. rtsp:// http:// and https:// are supported.
PUSHR's platform will sense when a streaming source is experiencing issues and will attempt to restart the stream. However, unstable streams will cause playback interruptions for your viewers. It's is recommended to ensure a stable, trouble-free source is used for a smooth streaming experience.
Remuxing
Remuxing (repackaging) of the source stream is enabled by default and included in the base price of each stream. Remuxing will use the same codecs as the source stream, while changing it's format to a single bitrate HLS.
PUSHR will analylize the source stream and will auto detect the average bitrate and resolution for remuxed outputs
Transcoding
Stream transcoding allows you to generate multiple resolutions (renditions) of each stream. One or more output resolutions could be selected. When more than one output is selected, the output stream will be delivered as an adaptive bitrate (ABR) HLS, compatible with a maximum number of different mobile, tablet, Smart TV and desktop devices over 2G, 3G, 4G/LTE and Wi-Fi connections.
Available outputs: 360p 480p 576p 720p 1080p
Transcoding pricing is available in the streaming panel in your dashboard at the time of creation of a new stream.
Ingestion server location
PUSHR's streaming servers are available in various locations around the globe to ensure stable connectivity between the streaming source and our network. For best results always choose a streaming server as close as possible to the streaming source.
Output codec
Output codecs define the compatibility of your streams. H264 offers maximum device compatibility while HEVC(H265) offers maximum compression but is only supported by a narrow range of hi-end devices and adds an additional cost to transcoding due to it's resource-intensive nature.
Available codecs: H264 H265 VP9
Editing a stream
You can change the source and name of deployed streams at your will at no additional cost.

Stream type, transcoder location and output codec can not be changed.
Destroying a stream
You can destroy a stream if/when you no longer need it in order to avoid being billed for it. Note that this action can not be undone.

Stream list
Your Live Streaming panel lists all streams in the current CDN zone. The following features and stream information are present:

Stream status - OFFLINE/LIVE for published streams that PUSHR ingests. Realtime status for RTMP streams.
Stream name - The name of your stream
Secure token icon (blue lock) - If access control via secure tokens is enabled, clicking on the lock icon will reveal a PHP copy/paste snippet ready for integration in websites and mobile apps
Streaming Link - Viewing link for the live stream on PUSHR CDN's network
Stream Info - Output codec and presets information
Live Viewers - A real-time count of devices viewing the stream. Updated automatically every 15 seconds. No refresh required
Actions - Start, stop, destroy or push the stream via RTMP to third party services
Settings - Edit stream settings
Single/Adaptive bitrate delivery
SBR/ABR delivery is an automatic feature that depends on the selected output presets. If a single output is selected, the resulting stream will be generated as a single bitrate HLS. If multiple output presets have been selected, the resulting HLS stream will include all of them to allow compatible devices to automtatically select the best quality in accordance to their processing and bandwidth capabilities, as well as to automatically switch between different qualities without playback interruption when a change in the available bandwidth is detected.
Live viewers count
Viewing statistics are being collected across the whole network for each stream in your account. The data is collected and updated every 15 seconds and represents a near real-time number of unique simultaneous live viewers of the stream.
Access control
Secure tokens
Access control is implemented via secure tokens and domain locks. Secure tokens are a global setting which affects all streams (but does not affect your standard CDN zone). PUSHR will generate a ready to paste PHP code for every stream in your dashboard which you can then use to block unauthorised viewers from streaming and sharing your live content with third parties.

Domain Lock
Domain lock allows you to lock all your streams to one or more domain names. Once activated, the lock protects your content from being embedded on websites that are not in the allowed list. Playing the stream directly with an external player is also forbidden. Domain lock can be activated from the Domain Lock button in the Live Streaming tab:

To whitelist a domain name, type it in the box and click on the lock button:

There is no limit on the number of domains that you can whitelist. Remember to click "Apply changes" when you've done adding all domains:

Stream push
Stream push allows you to send your streams via RTMP to third party services and social networks like Facebook, Youtube and Twitch. A stream must be running before it can be pushed. When pushed, the stream is still also available over it's HLS link for direct embedding in websites and apps. Currently push to only one destination is allowed per stream. To start pushing, use the Push button on the stream tab:


Hosted HTML5 HLS video player
Feature under development. Beta tests launching soon. Open a support ticket to enrol.
PUSHR CDN's embeddable HTML5 video player with HLS support provides an easy to use, modern looking and minimalistic solution that comes preconfigured to play your PUSHR streams and can be embedded via an iframe in every website, or used directly in mobile and desktop apps. Based on the actively developed open source Afterglow Player, which itself is based on the famous VideoJS project, PUSHR's HTML5 player adds HLS playback, ad insertion, customisable logotype overlay and maximum device compatibility. High availability and low page loading times are guaranteed by hosting and running the HTML5 player directly off PUSHR's edge cache nodes.